ALPHABETICAL
LIST OF ALL OUR
MAGIC TRICKS AND
BOOKS

CATEGORY LIST
OF ALL OUR
MAGIC TRICKS
AND BOOKS
_

This was my first time ordering from your company and I was impressed not only with your professionalism but your attention to customers. I run my own undercover customer service company and you would definitely receive a 5 star rating report from me. I was informed at every step where my order was, when it reached the warehouse and when it would be shipped. I especially liked that you followed up after my purchase arrived.

My grandson is the budding magician and I'm glad that we found your website.

I will definitely order again. The photo is of my grandson who loves magic!

Thanks for the great service,
Joan Farrell
Belford, NJ

ON SALE THIS WEEK - CLICK FOR MORE ITEMS ON SALE
FAIRY TALE RABBIT HOUSE - GIANT SIZE PLUS
Price: 199.95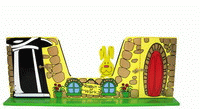 MAGIC FLOWER BOXES TRANSFORMATION
Price: 29.97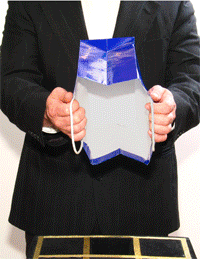 SILVER LIGHTNING APPEARING CANE - STAINLESS STEEL
Price: 89.97



GUY BAVLI BENDING MINDS, BENDING METALS VOL #1 - DVD

Quantity in Basket: none
Code: B144
Price:$39.95

Shipping Weight: 8.00 ounces


Learn the secrets of, who some call, the greatest Mental Magician Ever.

Not since Uri Geller has Israel produced such a dynamic performer! Guy Bavli is Israel's hottest magician, specializing in Mentalism and Metal Bending. Guy is a full-time professional, constantly performing on television, both in the U.S. and abroad.

Guy is a three-time winner of the Israeli GOLD CUP for "Best Magician." He is also the only magician to be named "Best Magician of the Decade" by the Israeli Society for the Promotion of the Art of Magic. He is the best of the best at what he does – blow audiences away with killer mentalism and the "psychic" bending of metal objects – METALISM. On this dynamic set of video tapes, Guy Bavli reveals for the first time the effects that have made him the most sought-after performer in his country and around the world. A regular in Las Vegas, Guy constantly fools and entertains even the most logical of minds.

Here is what is featured on VOLUME 1:

Spoons from Card Case - Produce spoons from your card case - how do they fit?
Bending a Spoon in a Spectator's Hand - Bend metal with your mind! Bag Bend - A complete act involving members of the audience; spoons bend and break!
Melting a Spoon in a Spectator's Hand - A spoon melts and breaks while in a spectator's hand!
Miracle with a Fork - One of the tines on a fork bends, unbends and then breaks!
Energy Hand - By simply waving your hand over a spoon, it bends!
Perfect Key Bending - A borrowed and signed key is bent using only the power of your mind!
Haunted Spoon - The ultimate haunted handkerchief!
Related Item(s)



GUY BAVLI BENDING MINDS, BENDING METALS VOL #2 - VHS
Code:B159
Price: $29.95
Quantity in Basket: none

Learn METALISM from a real working pro!

Not since Uri Geller has Israel produced such a dynamic performer! Guy Bavli is Israel's hottest magician, specializing in Mentalism and Metal Bending. Guy is a full-time professional, constantly performing on television, both in the U.S. and abroad.

Guy is a three-time winner of the Israeli GOLD CUP for "Best Magician." He is also the only magician to be named "Best Magician of the Decade" by the Israeli Society for the Promotion of the Art of Magic. He is the best of the best at what he does - blow audiences away with killer mentalism and the "psychic" bending of metal objects - METALISM. On this dynamic set of videotapes, Guy Bavli reveals for the first time the effects that have made him the most sought-after performer in his country and around the world. A regular in Las Vegas, Guy constantly fools and entertains even the most logical of minds.

The effects presented on this wonderful and informative set of videotapes are both unique and dazzling. There is material suitable for close-up, stand-up and stage performance. In addition to Guy's performance and explanation of his pet effects, he also demonstrates how to use his popular marketed items, including The Perfect Key Bending, The Net Bag and The Perfect Clipboard. No matter what your specialty is, you'll find something you can immediately use in your act. In fact, you could make a solid living as a performer using just the material taught on these tapes.

Here is what is featured on VOLUME 2:

Incredibly Clean - An easy mental masterpiece with cards!


Question Mark Mystery - A matching pair of cards is located by a spectator using only the power of the mind!


Fan Vision - A thought-of card, the performer names it!


The Perfect Prediction - Ultimate book test, near-impossible conditions!


Impromptu Card Stab - A card is selected and lost; cards are tossed into the air; the selection is impaled on a knife!


The Lottery Prediction - Six spectators correctly pick the winning lottery numbers!



KEY-BEND - invented by Erez Moshe
Code:A323
Price: $29.95
Quantity in Basket: none